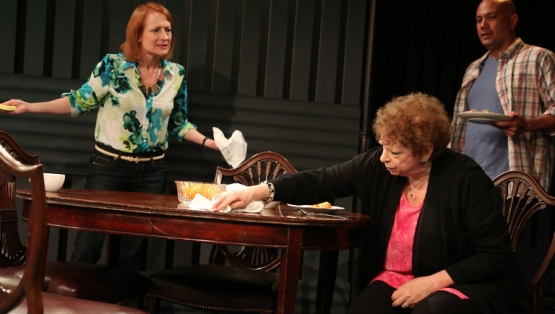 The Creator of "The Share" sitcom and its webisodes receives glowing reviews from The New York Times on her play "The Fork"
New York Times Review of "The Fork"
""The Fork" deftly shades boisterous humor with political alarm and awareness of mortality."
"Beneath the wild catharsis of the comedy, the play's sneaky surprise is how it prods us to consider the common good, our duty to the people we love and the blighted choices we're capable of making when we're afraid."
"The Fork" is part of The Ensemble Studio Theatre's historic Marathon of one-act plays.
Dawn McGee, Keola Simpson and Marcia Jean Kurtz in "The Fork"
THE FORK
Joyce, a proud grandma and leader in her field, is about to retire and feels she should use this time to assassinate the President. However, her children know this urge is about more than just politics.
directed by Andrew Grosso
featuring Marcia Jean Kurtz, Dawn McGee, & Keola Simpson
writer Emily Chadick Weiss
 The play runs May 14-June 5, 2017 at The Ensemble Studio Theatre in NYC